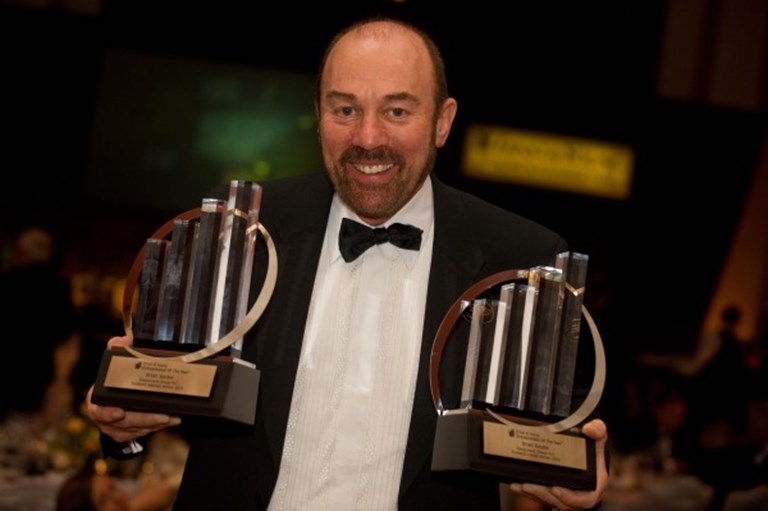 Stagecoach founder hailed by judges as "true global entrepreneur"
Ernst and Young award highlights leadership, innovation and vision
Recognition for role in supporting economic recovery and employment
Stagecoach Group Chief Executive Brian Souter has been hailed a "true global entrepreneur" as he collected a major business award for his drive, leadership and innovation
The co-founder of Stagecoach, which celebrates its 30th anniversary this year, was last night named Ernst & Young Scotland Overall Entrepreneur Of The Year 2010.
The judges described Brian as "a true global entrepreneur who demonstrates great leadership along with a keen eye for long-term vision and business growth."
"Entrepreneurs, like Brian, play a vital role in driving the UK's economic recovery by creating wealth and employment," said Jim Bishop, Ernst & Young's Entrepreneur of The Year Leader in Scotland. "Their optimism, ability to spot opportunities and sheer hard work continues to drive positive change and inspire others.
"Brian is an outstanding, innovative entrepreneur who consistently looks outside the box. He has taken the company from local to national and now to a global position, and is constantly on the lookout for new opportunities to expand into new markets in new countries. His energy and passion for business success and growth is clearly as strong now as when he started out."
Earlier this month, Brian received a major European award in Paris for a career of service to public transport. He is also a previous Insider Elite Businessman of the Year and winner of the Scottish Entrepreneur Award. In 2008, he received a special recognition award for services to the bus industry.
Brian Souter (55) is one of the UK's leading entrepreneurs and transport innovators. He co-founded Stagecoach with his sister, Ann Gloag, in 1980 with just two buses and has developed the company into a leading international transport group in the UK and North America with 30,000 employees and an annual turnover of more than £2billion.
The former bus conductor and award-winning businessman has been the architect of the company's strategy. He has been behind some major transport innovations over the past three decades, including the market-leading budget coach service megabus.com and the UK's first Biobuses.
Stagecoach undertook a private placing in 1988 and participated in a number of privatisations subsequently shaping industry consolidation. It was one of the first major transport groups to expand overseas, having run services in five continents across the globe over the past three decades. The company won the first UK rail franchise in the mid-1990s when it took over South West Trains, the UK's biggest commuter rail network.
Brian Souter is one of the UK's best-known private entrepreneurs, with an eye for new business opportunities.  He is a committed angel investor, providing crucial seed capital for new business start-ups. Brian Souter has a wide portfolio of personal investments, including bus and ferry companies in New Zealand and a large stake in bus manufacturer Alexander Dennis Ltd.
He is also a significant contributor to charitable causes and a committed supporter of health projects. Earlier this year, he launched the UK's first Healthy Heart Bus, a voluntary heart health screening programme for employees in Stagecoach's UK Bus division. Brian Souter has personally pledged £1million towards the £2m initiative.